In forests across England, a new series of wellbeing trails have recently launched. Here's how to enjoy them – or any woodland walk near you – for maximum mental health benefit
During one of the many Covid-19 lockdowns in the UK, Ellen Devine went for a walk. This might not sound unusual – it was one of the few outdoor activities the public could still take part in for 60 minutes a day.
As she walked through the Westonbirt Arboretum in Gloucestershire, a simple, handwritten chalkboard sign caught her eye. On it was written a message of "connection and hope, and an invitation to really go easy on ourselves, look after ourselves, and know that other people care, know that the trees in the forest were there for them," recalls Devine. 
"That sign meant a lot to me in that moment," says Devine, who works as the wellbeing projects manager at Forestry England, which manages 1,500 publicly owned forests in England. "As I continued my walk around the forest, I thought to myself 'I wonder if we can develop something that would reach out to people in a similar way?'"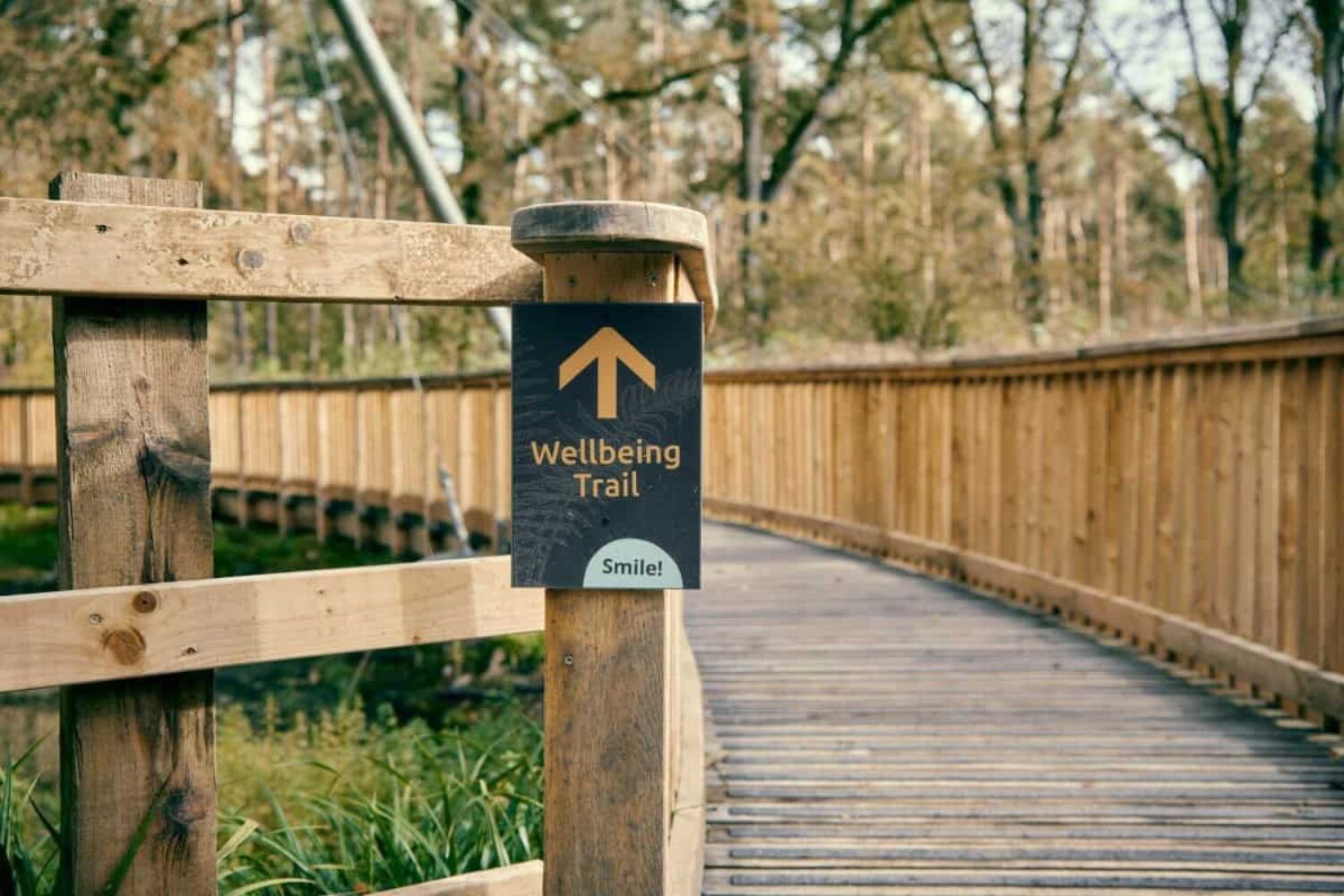 Fast forward to autumn 2023 and – supported by Sport England and using National Lottery funding – Forestry England wellbeing trails have launched at 18 forests across England, from Ennerdale in the Lake District to Mamhead in South Devon. Ranging from half a mile to a maximum of three, the trails highlight mindful activities to help visitors make the most of their walk. A free forest wellbeing journal, which can be downloaded, accompanies the routes, and includes easy-to-follow tips that have been chosen based on scientific research. 
The team at Forestry England hope the new trails will encourage more people into forests. It particularly wants to attract visits from people of colour and those from diverse socioeconomic backgrounds as research shows they have vastly reduced access to green spaces. Data from the Campaign to Protect Rural England found that just 1% of visitors to national parks in England were from Black, Asian, or Ethnic (BAME) minority backgrounds, in contrast to 14% of the population in England who are BAME.
"When we first started, our presence was seen as troublesome," says Beth Collier, a psychotherapist and founder of Wild in the City, a group that helps people of colour reconnect with nature. "It raised awareness of the fact that the sector was very white. It raised questions about the environmental sector, particularly around a fear of hostility or racism."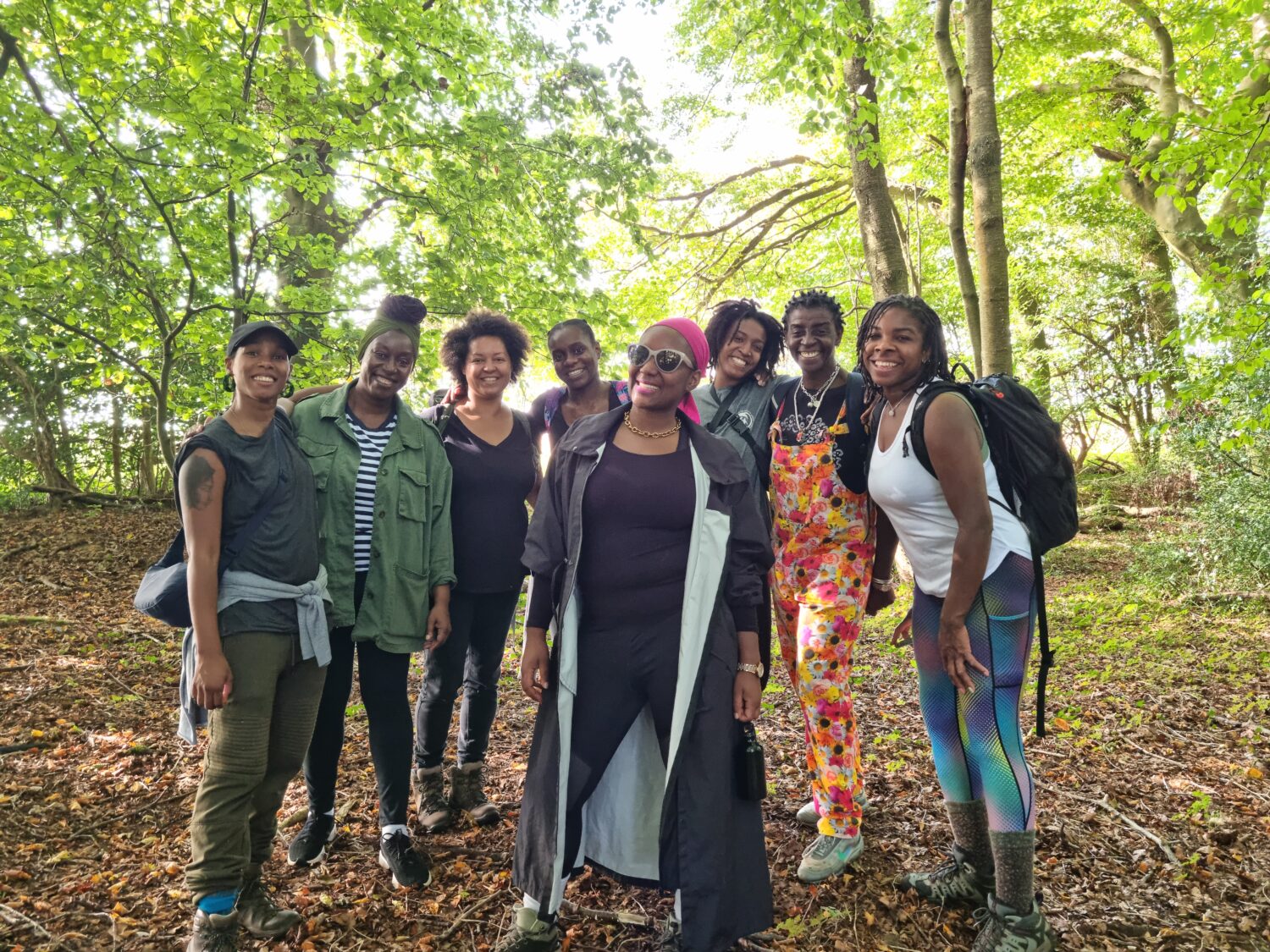 Through her programmes, people of colour are encouraged to discover the habitats on their doorstep, learn how to enjoy these spaces comfortably, and reflect on their relationship with nature. But, she says, anyone can get started by simply stepping outside.
Here are eight ways to turn a woodland walk into a wellbeing immersion, as inspired by Forestry England.
1. Don't just stomp past – take your time
"Just pause," advises Collier. "Take it all in, let your senses drink up what surrounds you. Just sitting, maybe leaning up against a tree, breathing in, enjoying the smells, relaxing your shoulders… really allowing yourself to slow down to enjoy what's around you."
Based on the Japanese art of Shinrin-yoku, or forest-bathing, researchers have found the practice helps increase positive emotions and connection with nature, while lowering blood pressure and mood disturbance.
2. Notice repeating patterns (your brain will thank you)
Have you ever really looked at a pine cone? It's just one example of fractals, which Devine describes as repeating patterns that can be seen on ferns, leaves, and tree bark.
"They're very pleasing to our minds", she explains, "helping to reduce mental fatigue and lowering stress levels." A University of Oregon study found our brains only need 50 milliseconds to detect their presence: in other words, our mind has a positive response before it's even clocked what we're looking at.
3. Have you thanked a tree lately? Try it
Work for the wellbeing trails also drew on the work of Professor Miles Richardson, who teaches about nature connectedness at the University of Derby. His research found that appreciating the beauty of nature is interlinked with positive feelings and compassion for the natural world.
Forestry England's forest wellbeing journal recommends writing down a few words or sentences on whatever comes to mind when you look at trees in the forest. Focus on what inspires you.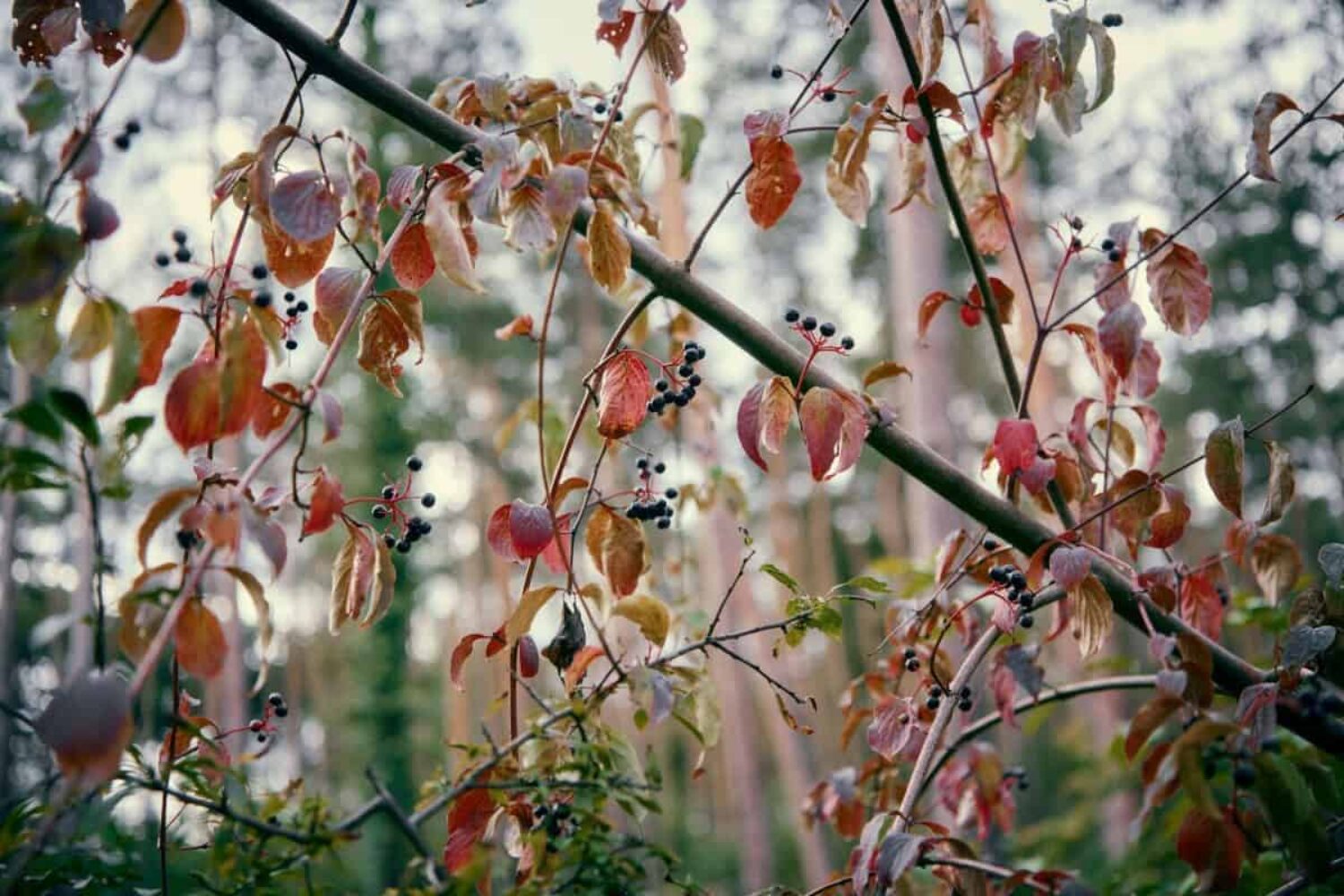 4. Be playful 
"It's about that exploring mindset, being open to what you're seeing," says Collier, who advises "bringing your inner child along, with a sense of playfulness".
For Liz Burfield, a forest bathing guide who walked the wellbeing trail at Salcey Forest, which is outside Northampton, highlights included "seeing the tiny but bright orange stagshorn fungus we found hiding behind a fallen branch, and sniffing onion-y scented leaves."
5. Share your experience – and ask questions
Whether walking on your own or in a group, use your time in the forest to reflect, gather your thoughts, and articulate them with friends and family.
Burfield says the prompts on the trail were key. "They were very helpful and triggered some interesting discussions. I think we all felt more engaged, relaxed, and connected by the end of the walk."
6. Seek out awe, and feel part of something huge
Be an active participant in the nature around you and you'll soon discover something that feels extraordinary. This could be just being part of nature itself, or the way we've interacted with it as a species for centuries. 
"You don't have to bring anything into the space," Collier explains, "and that's deeply connecting. To think that for millenia our ancestors lived in a way that's deeply immersed in nature, that they probably couldn't imagine not being in a natural setting."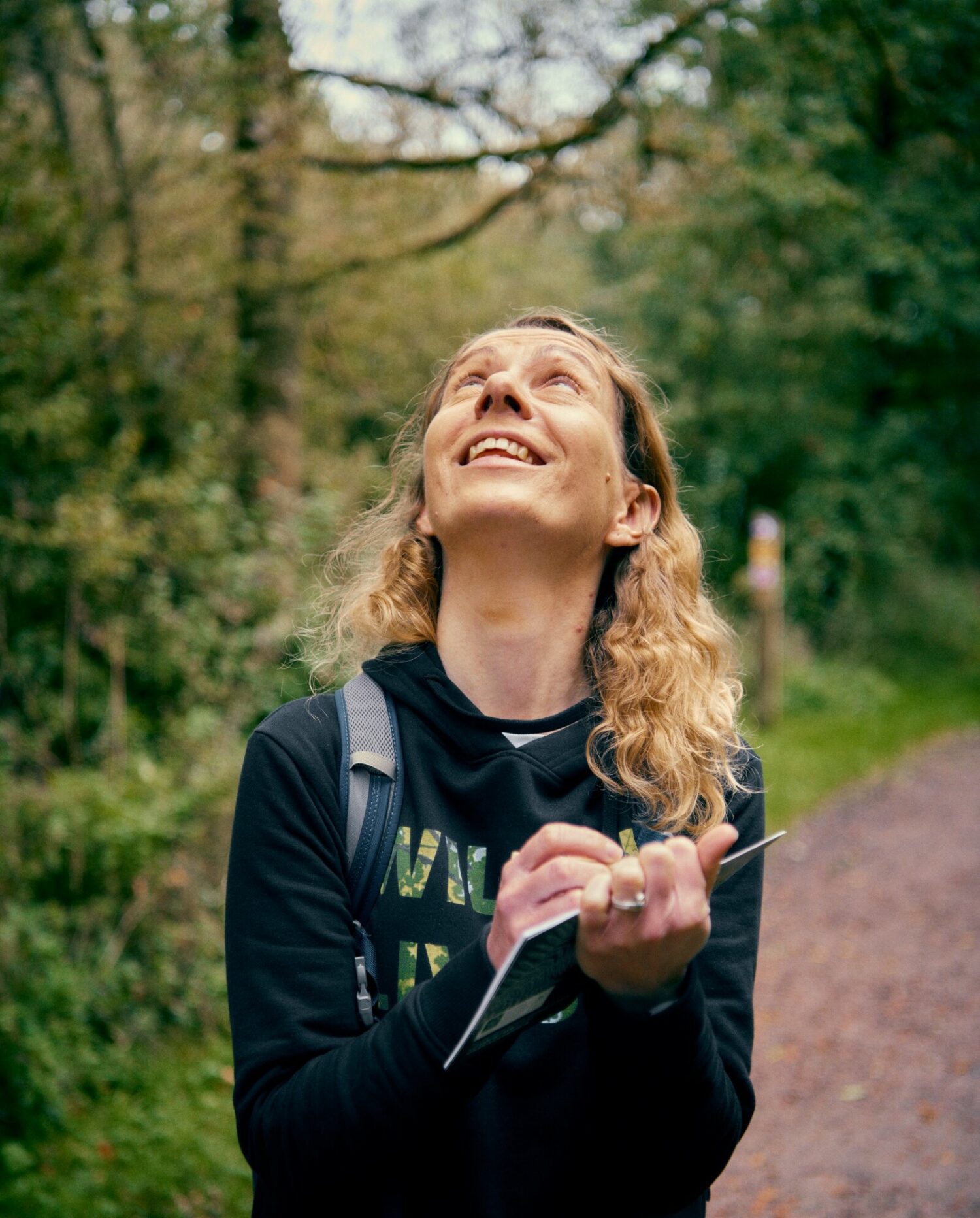 7. Look for mindful movement in the forest
Devine also encourages walkers to notice the small movements within green spaces, which are often in direct contrast to the harsh and sterile environments of cities.
"There are those gentle, soft sensory stimulations: the sound of the wind through the leaves, or maybe there's a little stream or a river that you can hear nearby. It's just enough to capture our attention and focus, but it's never intrusive."
8. Find peace in small joys
Finally, the wellbeing journal suggests you take the forest's lead on joy, too – recognising that like the changing seasons, nothing lasts forever; everything happens in its own time. 
Devine concludes: "I think sometimes, if you're having a really hard time, everything can feel really hopeless. Instead of trying to search for a perfect, 'everything's sorted' life, look for those little glimmers within every day that give you a moment of joy or a moment of hope."
Main image: Harry Lawlor