While the province added 5,200 jobs last month — bringing the total to 563,400, its population of eligible workers swelled by 7,400
Article content
Saskatchewan's unemployment rate is "skyrocketing" as job creation fails to keep pace with population growth, according to the publisher of Sask Trends Monitor. 
Article content
"We do have an uncharacteristically high level of unemployment in the province," statistician Doug Elliott said Friday. "The population's growing faster than job growth, and when that happened in the past, people used to leave the province. They're not leaving — at least not yet."
The province's unemployment rate rose to 5.6 per cent in January, up from 4.5 per cent one year ago, according to Statistics Canada. In practical terms, that means 36,600 people were unemployed, up from 28,600 one year ago.
Article content
Nationally, the unemployment rate also rose, climbing to 7.5 per cent in January from seven per cent one year ago, the government data bureau reported Friday. 
The fact that we've got employment growth at all, I would call that good news. It's not great news, but it's good news.
While the province added 5,200 jobs last month — bringing the total to 563,400, an adjusted year-over-year increase of 0.9 per cent — its population of eligible workers swelled by 7,400, a 0.8 per cent jump. 
Article content
Elliott said the "sluggish" labour market is a product of declines in the province's resource sector "rippling" through the broader economy, with weak resource prices eroding consumer confidence and leading to slowdowns in construction, manufacturing and spending. While Alberta is no longer an option for those seeking work, he said the overall situation could be worse.
"The fact that we've got employment growth at all, I would call that good news. It's not great news, but it's good news." Elliott said.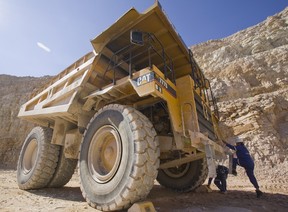 Job losses and the high unemployment rate are concerns, but the province's labour market is "very encouraging" given that more people are employed in Saskatchewan than ever before, according to the Saskatchewan Party's minister responsible for immigration, jobs, skills and training. 
Article content
"I think what we're seeing is a reflection of what is a diversified economy that continues to create jobs, that is strong and that is weathering a very significant challenge in the energy sector," Jeremy Harrison said.
Harrison acknowledged tumbling commodity prices and the "slight gap" between job creation and population growth, but said the government is working to improve the labour market by investing in supports and training for new and current employees.
"There are limits to what government can do, but what government can do and should do is put in place the policy environment and investments in areas where we can be helpful to improve human capital, invest in human capital and be able to take advantage of economic situations as we go forward and they improve, we hope," he said.
Article content
Andrew Coyne: Pass the word to Bay Street — we don't need any fiscal stimulus

Alberta's oil slump could trigger a spike in obesity rates as thousands cope with layoffs, specialists say
The official opposition takes a different view. 
The province's high unemployment rate is "incredibly concerning," and while no government can control commodity prices, the Saskatchewan Party should address the concerns of people affected while working to create short- and long-term opportunities for Saskatchewan companies, economy critic Trent Wotherspoon said.
"What's frustrating to many is that government dismisses this reality, tells a story that's in complete disconnect with the reality of so many families that are dealing with job loss and precarious employment," the NDP MLA added.
"When you look on many fronts, this is a government that has made things worse, not better."